"Mamas, don't let your babies grow up to be...Texas WaterHogs!" Here's a new twist on an old song...and a serious challenge to parents to help their kids establish good water usage 'habits' while they're still young.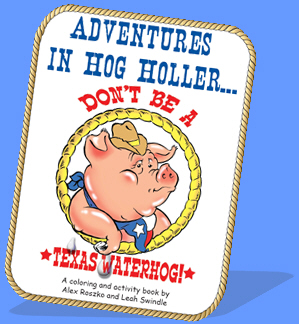 The coloring/activity book combines entertainment with education…and contains important information about how to use water wisely at home and in the yard and garden. Young readers are encouraged to sign up to join the Hog Holler Junior Rangers and to help 'round up' the WaterHogs to discourage their wasteful habits.
Using the WaterHog materials can be as simple as having youngsters enjoy the coloring/activity book, or as complicated as offering a complete 'unit' with the books, special piggy banks, slide presentations, certificates, a home water use audit, and a redemption center where educators can claim prizes for student water conservation achievements. (Educators, parents and group leaders: we are interested in learning about any new or innovative ways you use the WaterHog program. Click here to contact us, or to request additional information.)
This website provides the details on the program components…and how to access the materials that best fit your particular education goals and situation. And, we've also included some puzzles, coloring pages, and activities that can be downloaded for even more fun!