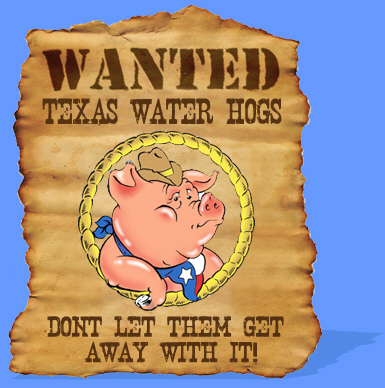 In Texas, folks have been used to abundant natural resources… oil, natural gas, water. But times are changing and in some areas, there are even shortages of energy and water. So it is more important than ever that we learn to use these precious natural resources more efficiently.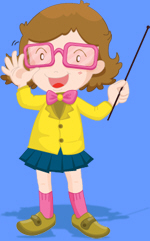 A lot of folks haven't figured this out yet…and they're still using as much water and energy as they want to. In far too many cases, they are wasting valuable drinking water by not paying attention to leaking faucets, 'running' toilets, and sprinkler systems that run in the rain and get the grass way too wet. Maybe they don't mean to… but it happens just the same.
Most of us do everything we can to use energy and water wisely. But, sadly, there are some Texas Water hogs who need our help. Can you help us find them?
Here are some things to look out for…
A TEXAS WATER HOG
A TEXAS WATER HOG
A TEXAS WATER HOG
A TEXAS WATER HOG
A TEXAS WATER HOG
Runs the dishwasher
or washing machine
with less than
full loads.
Lets the water run while brushing teeth
or shaving.
Takes showers that last longer than
5 minutes…
Waters the lawn too
often and too long.
Runs sprinklers
in the rain.
A TEXAS WATER HOG
A TEXAS WATER HOG
A TEXAS WATER HOG
A TEXAS WATER HOG
A TEXAS WATER HOG
Waters the sidewalk, driveway or
the street.
Doesn't adjusts the
sprinkler system for the season or
type of plants.
Uses the hose to clear
sidewalks and patios
instead of a broom.
Doesn't use mulch
or compost on landscaped areas
and gardens.
Has old toilets that use more than
1.6 gallons
per flush.
A TEXAS WATER HOG
A TEXAS WATER HOG
Has leaky faucets and
'running' toilets and
doesn't fix 'em.
Thinks that if he/she can afford to pay for the water they can use as much as they want.
How You Can Help...
Learn everything you can about using wisely
Talk to your parents about how much water your family uses at home.
Plan to REDUCE YOUR USE… and measure how much water you are able to save in one month.
Here are some ideas:
Look at your latest water bill… how many thousand gallons did Your family use last month?
Set some goals, for example, each family member to cut their shower time to 5 minutes…no cheating, everyone uses a timer! 5 minute shower = 25 gallons # of family members x 25=X multiplied by days in billing cycle
Check the next bill…how much did you save?
Perform a WATER AUDIT:
Record last month's water usage
Make a list of everything IN the house that uses water (# of toilets, # of showers/bath tubs, dishwasher, washing machine, etc.)
Find out how much water each of them uses each time they're used Determine where you can reduce your use (fewer laundry loads, etc.)
Keep a record of usage (hint: keep a notepad and pen near toilets so a check can be added each time they're flushed.)
Check for any obvious leaks
Now, do the same thing for OUTSIDE the house (irrigation system, faucets, water features, swimming pool, spas, etc.)
Record how often each is used and estimate how much water they used per time (gallons x times = total)
Make all possible reductions (cut irrigation time and frequency, reduce pool or spa 'spillage' etc.) and record what you did
Compare water bills…how much did you save?
Make water conservation a HABIT…
Remember, the water we conserve today, can serve us tomorrow!